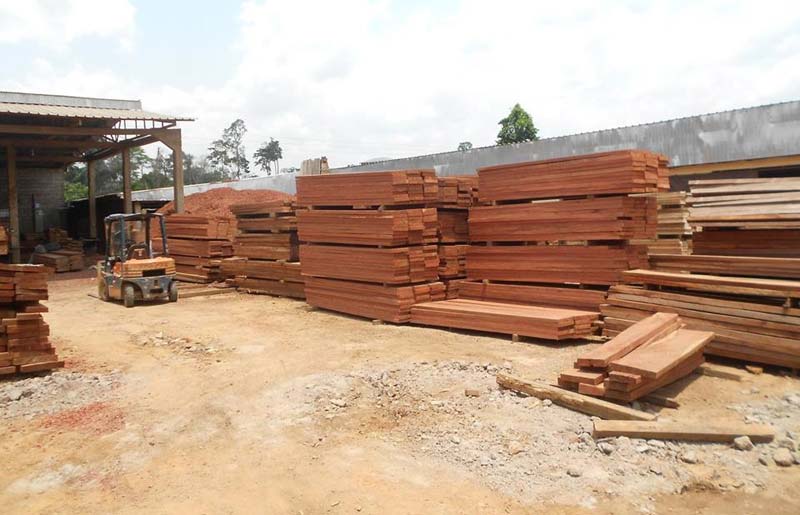 The total value of EU imports of tropical timber products (including direct imports and imports via third countries such as China) increased 7% to 4.16 billion euro in 2019.
This follows a 2% increase in import value in 2018.
The share of tropical timber in the total value of EU wood product imports increased from 19.7% in 2018 to 20.3% in 2019, rebounding to the level of two years earlier.
Considering the long-term trend, after falling continuously from 36% in 2006 to 22% in 2013, the share of tropical countries in EU imports stabilized in the range 20-22% during the six years between 2014 and 2019
The increase in the total value of EU wood product imports from the tropics in 2019 was driven mainly by wood furniture with other smaller gains in imports of tropical sawnwood, 'other' (i.e. non-flooring) joinery, other processed wood products, and energy wood. These gains offset a decline in imports of tropical panels/veneers, flooring and logs.
In 2019, there was a 10% increase in EU imports of wood furniture from tropical countries, from 825 million euros to 904 million euros. Imports of tropical sawnwood increased 3% during the year, from 1,006 million euros to 1,040 million euros, building on the recovery of the previous year.
There was also a sharp 16% increase in EU imports of 'other' joinery products from tropical countries in 2019, from 273 million euros to 316 million euros, with good growth in imports of tropical doors and laminates. Imports of energy wood, mainly charcoal, also increased, by 8% from 177 million euros to 191 million euros. However, EU imports of tropical logs, panels/veneers, and flooring were either flat or declining in 2019.
The value of EU imports from the two leading tropical suppliers, Indonesia and Vietnam, increased sharply in 2019, both benefitting from a significant increase in shipments of wood furniture.
Imports from Indonesia increased 10% from 825 million euros in 2018 to 904 million euros in 2019. Imports from Vietnam increased 8% from 822 million euros to 890 million euros during the same period.
During 2019, there were also significant gains in EU imports from India (by 12% to 339 million euro, mainly furniture), Brazil (by 16% to 271 million euro, mainly hardwood sawnwood and decking), Cameroon (by 5% to 268 million euro, mainly sawnwood), and Congo (by 17% to 93 million euros, mainly sawnwood).
However, imports from Malaysia fell slightly, by 1% to 531 million euros last year, with gains made by Malaysian furniture offset by a sharp fall in EU imports of Malaysian sawnwood. EU imports from Côte d'Ivoire also continued to decline in 2019, losing another 9% to only 61 million euros.